Restaurants & Bars
We know how to please your palate. Enjoy international cuisine in the themed restaurants situated in the resort, and a wide variety of dishes in the buffet restaurant, which boasts wonderful views.
Quench your thirst with your favourite drink. Enjoy the flavours of different cultures merged with the exotic atmosphere of the Riviera Maya... There is no need to leave the pool, as you'll find bars in our swimming pools. With the All Inclusive programme in our bars, you'll be able to enjoy local drinks, a large selection of international drinks, beer and soft drinks, all unlimited (except for Premium drinks).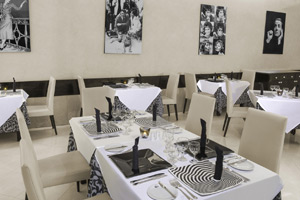 Restaurants
"Tulum" and "Akumal", 2 buffet restaurants
"El Patio", Mexican Restaurant
"El Rancho", Steak House
"Cinecittà", Italian Restaurant
"Siam", Thai Restaurant
"La Gira Rodizio", Brazilian Restaurant
"Ikebana", Japanese Restaurant
"Las Barcas", Mediterranean Restaurant
"Le Relais Gourmand", French Restaurant (supplement payable)
There is a dress code:
Buffet restaurant:
anyone in swimwear or not wearing a shirt will not be allowed in the buffet restaurant.
Themed Restaurants:
Smart shorts are acceptable in the thematic restaurants, however no swimwear or sleeveless T-shirts will be allowed.
French restaurant "Le Relais Gourmand":
smart attire is required; male guests need to wear trousers and shirts with sleeves.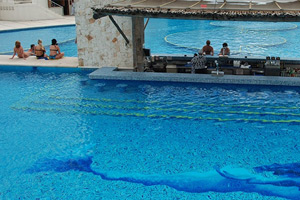 Bars
Lobby Bar "Tequila"
Lobby Bar "Mezcal"
Theatre Bar "El Palenque"
Pool Bar "El Cenote"
Pool Bar "Xaac"
Bar Restaurant "El Rancho"
Bar Restaurant "Bayou"
Snack Bar "Yalku"
Beach Bar "Umal"
Health Bar "Yalkuito"
Coffee Shop
Ice Cream Parlor
Disco "AK"